J'ai la chance de participer à l'évènement "Cassoulet War" organisé par D'Artagnan le 20 février prochain à New York !
Cassoulet War ? Quezako ?
Cassoulet War, c'est le challenge culinaire au cours duquel 25 Chefs vont tenter de réaliser le meilleur Cassoulet à base des produits de la société D'Artagnan.
Un cassoulet "Authentique" et un cassoulet "Libre" que préparera donc chaque Chef, et qui seront alors départagés par un Jury. Plus que "revisité" même, le second cassoulet demandé aux Chefs se veut carrément "daring" ("Audacieux" !).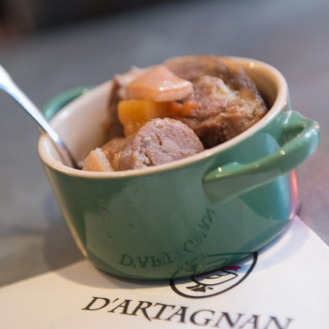 C'est le troisième "Cassoulet War" organisé par D'Artagnan, et cette édition 2017 se veut déjà prometteuse : Des viandes de haute qualité fournies par D'Artagnan, le tout accompagné de Cahors, de Madiran, et même d'Armagnac !
Les Chefs !
Les Chefs qui relèveront le défi sont :
Mike Zentner, Gaslight, Boston
Adam Nadel, Casa Apicii, NYC
Pierre Landet, Felix Restaurant, NYC
Shane Mcbride, Augustine Restaurtant, NYC
Doug Psaltis, RPM, Chicago
James Laird, Restaurant Serenade, NJ
Kyle Koenig, Craft, NYC
Laetitia Roubah, Benoit, NYC
Aaron Bludorn, Café Boulud, NYC
Kenny Bush, Bistrot La Minette, Philadelphia
Anita Lo, Annisa, NYC
Michael Faure, Ocabanon, NYC
Carl Dooley, The Table at Season to Taste, Cambridge
Ryan Lory, Charlie Palmer Steak, NYC
Cedric Tovar, Bobo, NYC
Andrew Knudson, Forge Restaurant, NYC
Guillaume Ginther, Le Coq Rico, NYC
Hugue Dufour, M.Wells Steak House, LIC
Steven Scalesse, Tullulah's Restaurant, Bayshore
Justin Fulton, French Louie, Brooklyn
Scott Jones, Menton, Boston
Christian Mir, Stone Creek Inn, Queens
Nick Calias, Brasserie jo, Boston
Alexander Burger, Bar Boulud, NYC
Chris Beischer, The Mercer Kitchen, NYC
Les Juges 😉 !
Philippe Bertineau, Chef, Ambassador of L'Académie universelle du Cassoulet
Jean-Louis Dumonet, President of the North American Delegation of the Master Chefs of France
Alex Guarnaschelli, Chef, Buttler Restaurant
Anne-Claire Legendre, Consul General of France
Sarah Moulton, Chef, Host Sarah's Weeknight Meals-PBS
Antre Soltner, Chef, Lutece
Laurent Tourondel, Chef, L'Amico @ the vine
Jean-Pierre Xiradakis, Chef, La Tupina, Bordeaux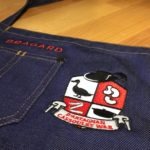 Retrouvez les détails de l'évènement sur le site de D'Artagnan, et pour les inscriptions… C'est ici !